Gateway Motel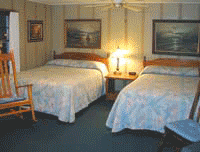 A year-round motel located in beautiful Newberry, Michigan. Our very unique and comfortable motel is perfect for your family and friends.
Your stay begins with a tour along the front of our motel. Handcrafted wooden carvings, by Cesar Magno, welcome the visitor to a place filled with art, books, Tiffany lamps, plenty of soft fluffy towels, comfort, and friendly service. Pets accepted with prior consent.
Our accommodations are spacious and beautiful! Each unit has it's own unique theme and warmth. Many have written letters & thank you cards telling us how much they enjoyed their stay. Please visit our "Endorsements" page to read additional comments we have received on our lodging.
Mornings we have fresh coffee available in the our front office. Our Sail Fish will point out the way! We promise that interiors are never boring at Gateway Motel.
<>
Gateway Motel
7885 State Hwy M-123
Newberry, MI 49868
906-293-5651
<>
Visit Gateway Motel Website >>>
<>