Timber Charlies Food & Spirits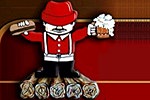 Food, Spirits and Gifts! We have it all. Raymond Mahaffy and Family invite you to their unique location in the heart of the beautiful Upper Peninsula of Michigan.
We are situated directly at the Snowmobile Trail Head in Newberry, Michigan for your winter activity convenience. In the Summer, we are centrally positioned in the middle of all the great attractions and activities. Open year round, Timber Charlie's Restaurant, Catering, and Manuela's Gift Shop can help make your travels to Upper Michigan the best ever. Tour buses are welcome.
Timber Charlies All New Menu
"Our Traditions ~ Your Memories"
Our all new menu features "A cut above the rest!" All Timber Charlie's Black Angus Steaks are Premium Certified, Premium Choice or higher in quality and are hand cut to order. We invite you to come in and try one of our Premium Choice Filet of Sirloin or Marbold New York Strip.
Our new menu also offers more home cooked dishes with less processed foods. We have carefully selected many new quality Michigan made products for our menu. Our steaks, turkey breast, potato chips, and pickles are just a few of the locally our Michigan made items that will be sure to please. Please visit our Restaurant page to learn more.
Timber Charlie's Bar & Restaurant
Large and small parties are welcome. Our atmosphere is cozy and rustic; echoing the beauty and charm of the Upper Peninsula of Michigan. We serve breakfast, lunch and dinner. Please check out our printable Menus under the Restaurant tab for these PDFs. Our bar offers American, Imported and Draft beer for your drinking pleasure.
<>
Timber Charlies Food & Spirits
101 Newberry Avenue
Newberry, MI 49868
906-293-3363
<>
Visit Timber Charlies Food & Spirits Website >>>
<>
<>